Skip to Content
Sprinkler Spring Startups in Logan, UT
Greenscapes Helps with Your Sprinkler Spring Startups
Greenscapes is the go-to irrigation expert for sprinkler spring startups in Logan, UT. With wintry weather in the rearview mirror, it is time to devote attention to your lush lawn in the Cache Valley. To aid that process, our landscaping professionals can help with sprinkler spring startups. Before the first freeze last fall, you surely winterized your sprinkler system. Now it is time to restore its operation. You will need to turn on the irrigation system and begin watering your yard to bring back the vibrant colors that help frame your home and beautify your community. Contact Greenscapes for assistance with your sprinkler system's spring startup.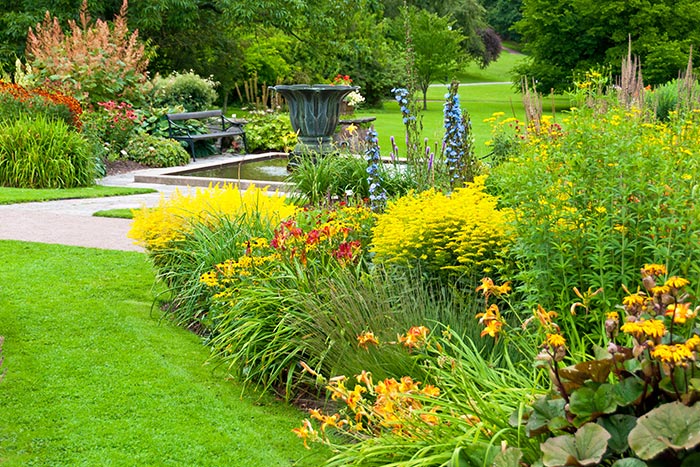 Sprinkler System Spring Startup in Logan, UT
After surviving a brutally cold winter in Logan, UT, it is natural to feel excited about turning on your irrigation system and beginning to water your yard once again. But following several months of dormancy, it is essential to exercise care. Greenscapes is Logan, UT's landscaping expert, so we can surely help you throughout the process. We will also help you recognize when to turn on your lawn sprinkler system. It is important to avoid getting anxious and starting your sprinkler system before winter is over. We know that the first hint of warm weather is rousing but be wary of impending cold fronts. Premature spring startups can be just as dangerous as waiting too long to winterize your sprinkler system. Do not begin de-winterizing your irrigation system until there is no longer a threat of frost. Once you are in the clear, we will help you complete the spring startup checklist.
Irrigation Spring Startup Checklist
The team at Greenscapes has extensive experience with sprinkler system spring startups in Logan, UT. Once spring has arrived and is here to stay, with floral blooms on the horizon, contact our professional team to schedule an appointment to perform all the tasks on the spring startup checklist. The irrigation system startup procedure includes:
Opening the main water valve – We will open the system's main water valve slowly, allowing pipes to fill with water gradually. It is crucial to be cautious when opening the valve to avoid high-pressure surges and uncontrolled water flow, which could cause pipes to burst.
Manually activating all zones – Our landscaping experts will verify the proper operation of each station within your lawn sprinkler system by manually activating all zones using the controller.
Checking each station – Prolonged inactivity will occasionally result in issues that go undetected until the spring's first watering. To get ahead of any potential problems, our team will check each zone within your sprinkler system for proper operation. This manual check assesses operating pressure, proper rotation and adjustment of sprinkler heads, and ample water coverage.
Reprogramming the controller – To satisfy your plants' needs during spring weather, we will reprogram the controller for automatic watering.
Cleaning the weather sensor – If necessary, we will uncover and clean your sprinkler system's weather sensor during the spring startup procedure.
Confirming Your Sprinkler System is Ready for Spring
After we complete all of the tasks on the spring startup checklist, we will verify your system's efficiency. This leg of the process expands upon the station checks we performed during the startup. We will run a manual test for each sprinkler zone. During the process, we will note any problems to address at the conclusion of our evaluation. It is normal for the sprinklers to sputter and blow out air during the startup phase. The pipes have been empty for months and must completely fill to restore peak efficiency. But if the problems persist for longer than a minute or two, we will have to examine the root cause. Solutions can be as simple as cleaning the sprinklers' filters or adjusting their heads. In rare cases, we may have to replace parts. Either way, you can rely on our landscaping professionals to quickly diagnose any issues and have your sprinkler system fully operational in time for the season's first blooms.
Contact Greenscapes for Sprinkler Spring Startups
The ground is thawing, wildlife is returning, and frigid blasts are things of the past. These signs of spring will leave you yearning for the green grass and colorful vegetation that have become staples at your commercial or residential property. But after months of inactivity since you winterized your irrigation system, you will need to enlist the help of Greenscapes for professional sprinkler spring startup services. We will complete a thorough checklist of tasks to ensure the proper functionality of your lawn sprinkler system just in time to water your annuals. In the process, we will provide maintenance and pinpoint any areas for concern within your system, allowing you to address them immediately. Contact us today to schedule your spring startup.
Cache Valley's Premier Landscaping and Commercial Grounds Maintenance