Skip to Content
Sprinkler System Repair in Logan, UT
Greenscapes Offers Sprinkler Repair to Cache Valley Homeowners
There are many benefits of installing an in-ground sprinkler system, including convenience, aesthetics, and water-efficiency, but as with any other system, it will need maintenance from time to time. Sometimes it will be as simple as a broken sprinkler head, and other times we may have to repair the water lines themselves. In the event your sprinkler system breaks, Greenscapes has a team of qualified experts to perform sprinkler repair in Cache Valley, Utah. Keep your garden and grass well-irrigated throughout the spring, summer, and fall months without interruptions.
Sprinkler Winterizations & Blow-Outs are a necessity in order to protect your sprinkler system from winter damage. Winterizing is the process of forcing compressed air into the sprinkler system and then cycling through each control valve until the water has been removed from the sprinkler/irrigation system.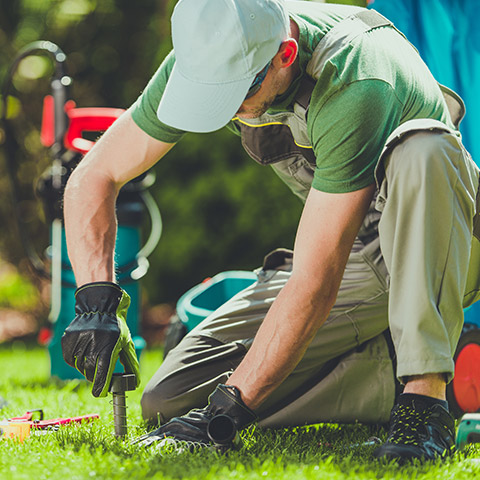 We Schedule A Repair Appointment Around
Your Schedule
We know you're busy with work, social, and family commitments. So we're happy to work around your schedule. After calling us, we'll set up an appointment with one of our specialists. You don't have to be home during the repair process, but we can schedule work while you're at home if it makes you feel more comfortable. Our technicians will inspect every inch of your irrigation system, testing the system for flaws. Once we locate the source of the problem, we give you an estimate and fix the system. Our technicians have years of experience performing sprinkler repair, so you don't have to worry about repeat visits. We get the job done right the first time.
Contact Us Today to Schedule a Sprinkler Repair Appointment
We believe in providing efficient and quality service. That means our technicians are trained to detect the source of your problem quickly and repair the damage properly. Delays aren't good for you, and they're unacceptable for us. To schedule an appointment for sprinkler repair in Cache Valley, Utah, contact us today. We also offer commercial grounds maintenance, snow removal, and landscaping installation services throughout the Cache Valley area.
Cache Valley's Premier Landscaping and Commercial Grounds Maintenance