Skip to Content
Professional Landscape Installation in Logan, UT
Whether you are a residential or commercial property owner, you have exquisite tastes, and you want your property looking its best. When mowing, hedging, tree pruning, and weed whacking aren't enough, Greenscapes offers landscape installations to Cache Valley, Utah customers wanting more. We can accentuate the existing features of your lawn, from the trees, scrubs, and grass, with newly planted trees, decorative rocks, and hedges. We have an innate understanding of what kinds of installations work best in this mountain climate, and we're dedicated to serving our customers.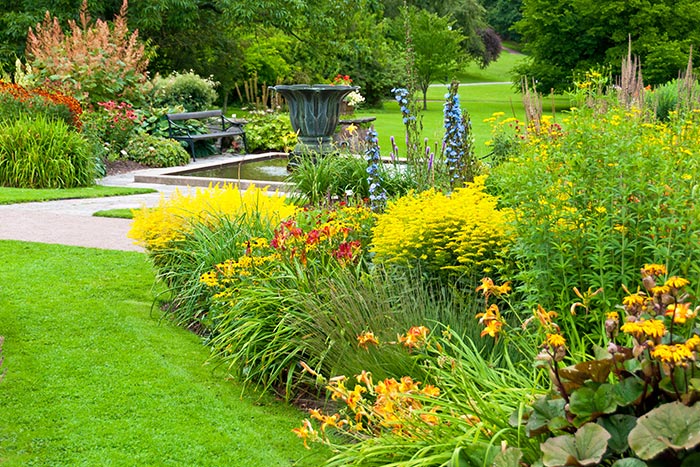 We Amplify the Natural Beauty of Your Property
We know how to beautify your lawn and do so with longevity in mind. As your installations grow, so will the beauty of the plants, shrubs, and trees we install. It's the gift that keeps on giving. Greenscapes is a full-service landscape installations company.
This means we pledge to always:
Perform additional maintenance, including fertilization needs, watering, and extra pruning. Some installations will require extra care. We make sure your lawn stays beautiful.
Work with you to choose the fertilizer that works best for you. Some of our clients prefer organic fertilizers, as opposed to chemical options.
Set a deadline and keep to it. It's as important to us as it is to you that we stay on top of things during the job.
Sit down with you to determine which installations appeal most to you, and which ones you don't like.
Fully-explain the details of the contract to you. We want you to be fully-comfortable with our services.
The benefits of professional landscape design and installation
If you have extensive backyard or even front yard space that isn't being utilized in the best possible way, professional landscaping might be perfect for you for a number of reasons. While modern life has us spending the vast majority of our time indoors, being outside is a great pleasure, and when you get professional landscape design, you instantly add a brand-new element to your property. The benefits are wide and varied:
Share it with Friends and Family
A professionally-landscaped backyard makes the perfect place to host family and friends. From cookouts to other gatherings with many people, properly-landscaped areas in your backyard become great places to spend time with the people you love.
Create a Comfortable Space
Grass and trees are actually cooler than asphalt. Beyond providing shade, grass is a lot more comfortable to walk around on during a hot summer day. Imagine walking on sand or gravel in the hot sunshine versus a grassy field. The difference is significant.
Good for the Environment
Trees are great for the environment. Did you know that one tree can remove up to 26 pounds of carbon dioxide from the air every year? That's about the level of a car driving 11,000 miles. If you have an extensive backyard area, just think how many trees you can plant to help offset carbon emissions on your own property.
So what's an example of landscaping?
You might be thinking to yourself, what is landscaping exactly? The beauty of professional landscaping is that depending on the size of your property, the sky's the limit. From adding grassy areas and trees, to carving out space for a garden and footpath, there's a nearly limitless number of possibilities for professional landscape design on your property. At Greenscapes, we work with you every step of the way to help design the perfect outdoor oasis for your property. Working within your budget and finding the options that best suit your lifestyle is our number one priority, because we want your backyard to be a place you look forward to enjoying.
Cache Valley's Premier Landscaping and Commercial Grounds Maintenance